HOW TO REFACE YOUR OLD KITCHEN CABINETS SAVE MONEY LOOK AT THE BEFORE AND AFTER PHOTOS
How to Reface Your Old Kitchen Cabinets
New project for a new year: Update your cabinets without replacing them entirely, as a DIY project or with help from a pro

Steven RandelJanuary 10, 2014 Houzz Contributor. California licensed architect specializing in residential projects throughout the state, keynote speaker, and author of the upcoming book "The Realtors' Guide to Home Styles: How to Understand What Clients Really Want & Match Them To Their Dream House". Houzz Contributor. California licensed architect specializing in residential projects... More
EmailComment365Like481Bookmark4k+PrintEmbedADMINISTRATIVE CONTROLS Cloned To: FR; Currently Featured in: US
It may not always be practical or affordable to rebuild the cabinets in a kitchen or bathroom. Refacing them might be the best solution. But what does refacing involve? As with most construction projects, the answer depends on lots of details.
Cabinet CuresProject: Refacing kitchen cabinets.
First step: Determine if your cabinets can take the restoration process well enough to be revitalized for at least another 10 years of life. If the cabinet body, or carcass, is in bad structural shape, is water damaged or will not take to refinishing well enough, you might have to replace the cabinets in a full kitchen remodel.
Why reface: In the most basic process, you will be leaving the cabinet intact and in its same place. This avoids the expense and effort of taking out and replacing the entire cabinet. So the advantages are less expense, less material going to the landfill and a less-complicated construction process.
Consider color an ally in making decisions about how to update the look of your cabinets. The verdigris tone shown here is a soothing complement to the hardwood floor, and allows a wonderful contrasting color pop of apple red at the range. Notice the rusticated patina of the finish, which adds dimension to the scheme. Other details, such as the beadboard panels, bottle cubbyholes, plate rack and arch impression, give this design lots of character.
Is this a good project for you? If your cabinets have sturdy frames, refacing can be a good solution. The degree to which you refurbish the cabinets is up to you. Simply painting or restaining them can have a dramatic effect. In some cases it is desirable to replace the doors and drawer fronts with a completely different door style or wood species. Replacing the hardware, pulls and knobs is another option to consider, and can make a nice difference inexpensively. Repairing damaged wood can also be part of this process. Combinations and variations of each of these options defines refacing cabinets.
Permit: As long as you are not changing any electrical or plumbing, you probably can do this project without a permit. Check with a design professional or ask the local building department and describe your intentions in detail to find out for certain.
Project length: Simpler modifications can be accomplished in a weekend, and even the most involved projects can probably be completed within one month.

Best time to do this project: This is a project for the winter, after the holidays and before Easter, or in the fall before Halloween. Summer might be too hot, depending on your climate, or it might be best in milder climates.
Find design pros and contractors near you
Benchmark Home Improvements Black and white themes never go out of style and can always look fresh and crisp. Shiny black countertops and a bright white cabinet finish dignify this comfortable kitchen design with refacing. Nothing here is too complicated or fussy. The two pairs of glass panel doors on either side of the microwave oven delicately relieve the long bank of upper cabinets, preventing monotony.
Benchmark Home Improvements A soft contemporary theme has been achieved in this refaced kitchen. Notice that the cabinet door is a simple stile and rail with a flat-panel inset, which is called a Shaker style. This is one of the least expensive door styles available, and it can be used in both modern and traditional interiors effectively. Stainless steel hardware complements the coordinating appliances. Again, glass upper cabinet doors provide interest.
Robinwood Kitchens Most homes are traditional, and it seems that one can never go wrong when going with this classic design theme. Click here to see the stark contrast between this refaced kitchen and the original. Surprised that it used to be contemporary? While this kitchen probably pushes the refacing envelope, you can see how dramatic a transformation can be without the entire room's being rebuilt. Before Photo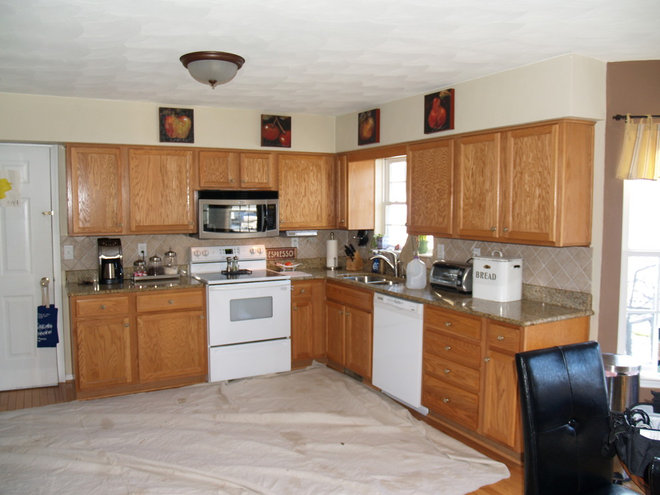 Kitchen Tune-Up - Roanoke Let's take a closer look at how the previous examples have been transformed by first examining simpler conversions. This kitchen has everything many people want in their kitchens, including granite countertops and a nice tile backsplash. The very basic layout suits the size of the room. But the gold-brown cabinet finish and heavy wood grain make it appear like unfinished or raw wood.
Kitchen Tune-Up - RoanokeAFTER: By changing to maple doors and drawer fronts, facing the frames with maple veneer and applying a darker stain, the designer made the space appear far more handsome. The maple has a much softer and mellower grain, and the darker color gives the room a richer feeling. Before Photo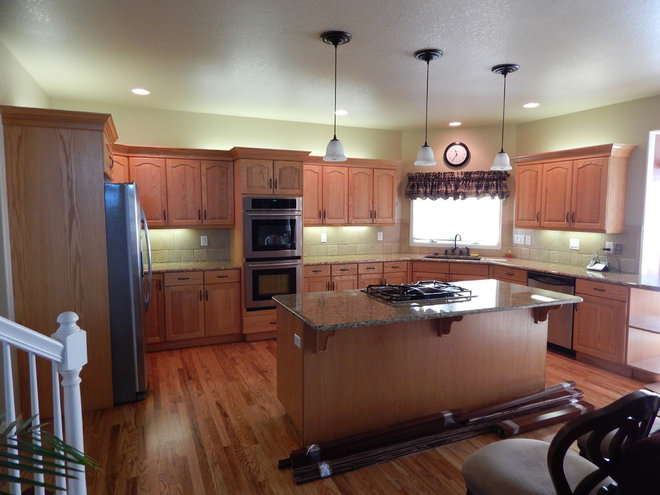 Custom Classic Cabinetry Here we have a very spacious and nicely appointed kitchen with nice granite countertops and tile backsplashes. But again, the gold-brown and heavily grained oak cabinets do not make the room feel special. Also, the door style looks dated.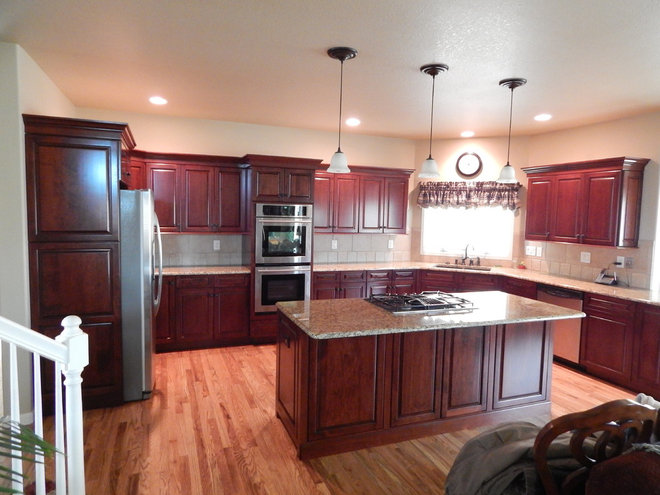 Custom Classic CabinetryAFTER: Notice that most elements from the original kitchen are still here. The difference is that all the doors and drawer fronts have been changed to maple with a furniture-quality finish. Also, finish panels added to the side of the refrigerator cabinet and to the base of the island dress up these highly visible elements, making this kitchen even nicer. Before Photo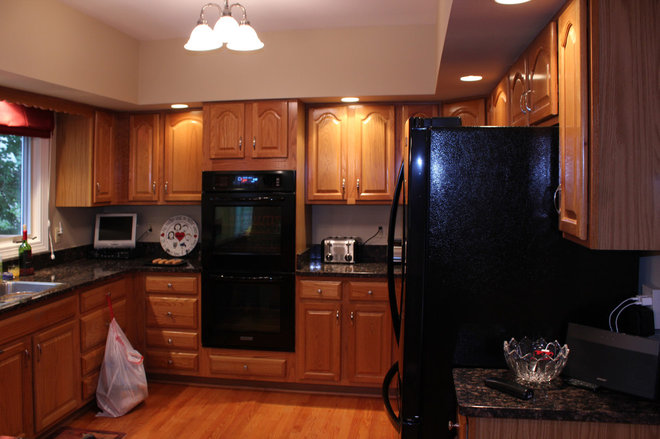 Pro Refinish Once again heavily grained stained oak cabinets cheapen the atmosphere in this roomy kitchen. Otherwise, it has everything you would want, including a large window over the sink that lets in lots of natural light, granite countertops and up-to-date appliances.
Pro RefinishAFTER: This time the cabinets, doors and all, stayed in place but got completely painted over. Notice also that the pulls and knobs were replaced as well. Now the darker granite contrasts the light cabinets in a sophisticated way. The room feels cheery and clean compared to before.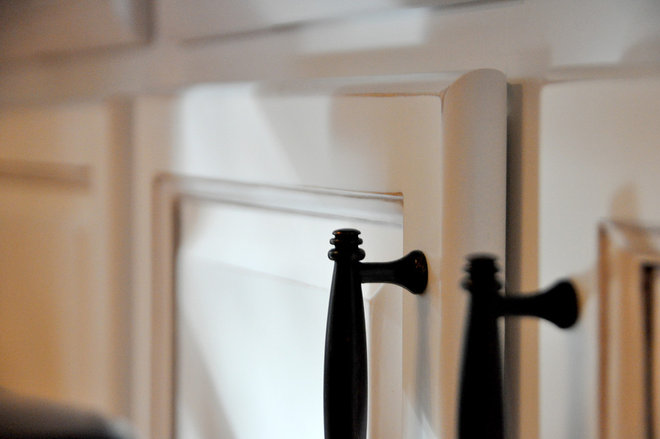 Pro RefinishSave Photo
Looking up close at the newly painted cabinets, you can see that the finish has been given a slightly distressed edge. This effect adds depth and character. These are not necessarily expensive cabinets to start, but this type of finish can really add flavor. Before Photo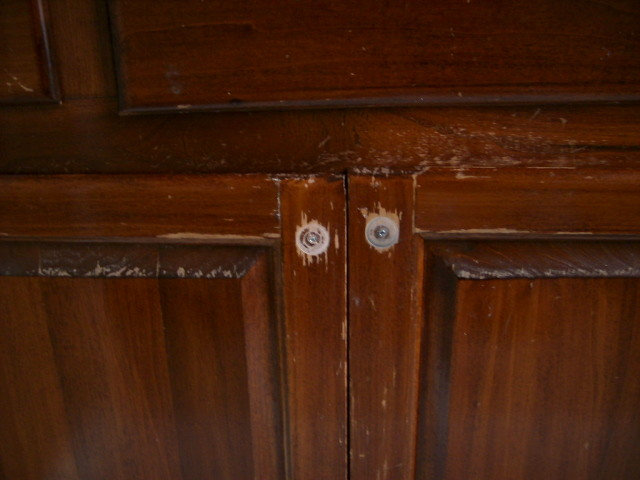 Kitchen Tune-Up - BlountvilleBEFORE: In some cases you may be faced with damaged surfaces. The great thing about wood is that it often can take a beating and still be revived for more life. As long as the wood has not warped from water damage or other problems, don't give up on it.
Kitchen Tune-Up - BlountvilleAFTER: Here is the repaired cabinet with the scratches sanded out and a new coat of stain and varnish added. You will most likely want to find someone who does this type of work on a regular basis unless you are skilled at refinishing wood surfaces. Before Photo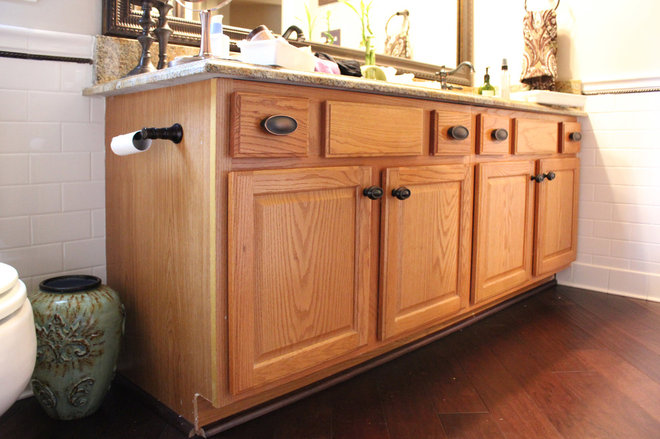 Pro Refinish What is it about heavy oak grain that it seems to show up so frequently? This bath cabinet is in excellent shape, with plenty of drawers and storage. It would be a shame to toss it out just because it is a little homely.
Pro RefinishAFTER: A distressed off-white lacquer finish transformed that dowdy cabinet into a substantial statement. Notice that the original hardware, granite, mirror, sinks and plumbing fixtures remain. By adding beadboard to the end face and wrapping the base with a mold, the finisher created a whole new statement with minimal effort. Before Photo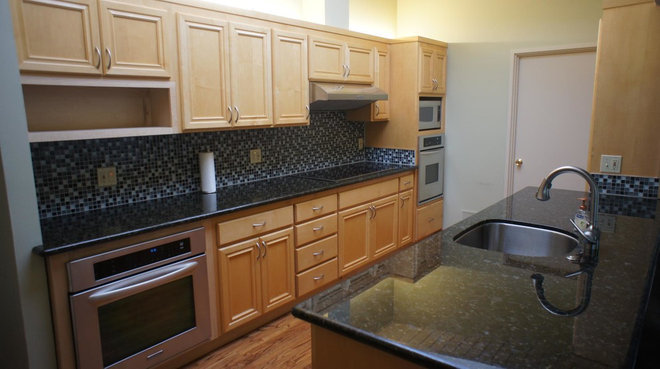 Pride&Joy Home Improvements This modern and slick kitchen has beautiful stone countertops and a marvelous mosaic tile backsplash. Even the appliances are up-to-date. But the color of the wood finish and the cabinet door style are not congruent with the space's modern elements and colors.
Pride&Joy Home ImprovementsAFTER: Transformed with black stain and new Shaker-style doors, the cabinets now make a confident modernist statement. Note that the hardware has also been replaced. The original had decent brushed metal pulls, but the remodeled version has more substantial hardware that is easier to see and nicer to touch.
Who to hire: If you are simply repainting your cabinets, this might be a DIY project. Even replacing knobs and pulls is simple and can be done without too much trouble. Consider using a handyperson if you don't have time to do the work yourself. A handyperson might also be able to do more demanding work, such as replacing the doors and drawer fronts. If your remodel is more extensive, architects, kitchen designers and interior decorators can all be called upon to work on the project with you and provide valuable design direction.
Cost: A simple paint job might cost a few hundred dollars. For a more extensive refacing job, $5,000 to $15,000 is likely. If the project involves replacing the countertop and appliances, you can spend considerably more.
Project questionnaire. This can help you break down what you need for your kitchen and help you develop a shopping list and budget:
Replace cabinet hardware (knobs and pulls): • Yes • No

Replace cabinet doors and drawer fronts: • Yes • No

Replace wood species or finishes: Yes • No (coordinate with door style changes)

Paint existing: Yes • No

Stain existing: Yes • No

Repair existing: Yes • No

Add details such as glass doors: Yes • No

Replace hinges: Yes • No

Replace appliances: Yes • No

Replace countertops: Yes • No

Replace backsplash: Yes • No

Replace lighting: Yes • No

Add lighting: Yes • No

Add finish panels: Yes • No

DIY: Yes • No

Hire professional: Yes • No