Sleeping Areas For Dogs
16 Stylish Built-In Sleeping Areas for Dogs
Give pets their own safe haven with these built-in dog beds for the kitchen, living areas and laundry room
Pet experts will tell you that dogs need a space of their own to snuggle up and sleep in. Canines curl up in a ball in the wild to retain warmth, an instinct that carries over to our suburban pets. So instead of just throwing a dog bed on the floor, why not carve out a space to satisfy your pet's denning instinct? As den animals, dogs need a "sanctuary that is just large enough for them to fit inside and feel secure," the American Humane Association says.

A built-in sleeping area in a home's cabinetry fits that bill and makes a perfect hideaway for our domesticated canine friends.It can be adapted for any home's style — traditional, sleekly modern or a bit blingy. An added bonus is that built-ins keep the house uncluttered by clunky dog beds.Here are some striking examples.
Julie SheerSeptember 6, 2016 Houzz Contributor;

Rehkamp Larson Architects, Inc.1.Lucky, a goldendoodle, enjoys his special spot in his family's renovatedkitchen and mudroom. "The small addition, tucked between existing spaces, gives Lucky his own hangout area in the mudroom, and allows the family to easily (and stylishly) gate him when need be," Jean Rehkamp Larson of Rehkamp Larson Architects says. "The custom metal gate operates like a concealed pocket door, conveniently sliding in and out of the wall when needed."
Dovetail Workers in Wood ltd2. A dachshund gets a cozy nook in this modernkitchen-dining areain a country house near the appropriately named Petworth, in southern England. The cabinetry doors, drawer fronts and side panels are covered in ash veneer.
The Muir Showrooms3. Talk about the best of both worlds. This dog gets to keep an eye on dinner prep while lounging in bed. The Muir Showrooms in Bedford, New Hampshire, included the built-in dog bed inthe kitchenso the whole family could hang out together.
Bunch Design4.The dog cubby in this kitchen was part of Bunch Design's partial renovation of amidcentury housein the Woodland Hills neighborhood of Los Angeles. The peninsula is wrapped in strips of painted medium-density fiberboard.
Betsy Bassett Interiors5.Dog crates, or kennels, can be an excellent housetraining aid, and act as a temporary "special retreat" rather than an all-day cage, according to the American Humane Association. But their boxy, chain-link ugliness is a design challenge. Not for lucky rescue dogs Maxie and Scout, though, who get to hang out in a custom-designed pen in thisNewton, Massachusetts, kitchenby Betsy Bassett. The pups open the gate with their noses. The dog den can be replaced with a base cabinet later if desired.
Cabinets: Brookhaven, Wood-Mode; countertop: Jet Mist honed granite; backsplash tile: Desert Sand Stripe, Akdo
Kuche+Cucina6. A cavalier King Charles spaniel peeks out from its bed in anEnglish country kitchenin New Jersey. The niche is part of a handcrafted Kuche+Cucina cabinetry unit in soft yellow with brown glazing and light distressing.
Pineapple House Interior Design7. These pooches enjoy luxe sleeping digs in custom-made cabinets with a tufted backdrop in the living area of theirAtlanta home. The space includes removable, washable bedding, and a laser-cut metal screen in the kennel door offers ventilation. Pineapple House Interior Design created the space with a cabinet fabricator and upholsterer. Toys are also stashed inside.
Warehouse Collective, LLC8. This sleeping space under the stairs gets the chic treatment in a Cape Cod-style home in Huntington Beach, California. "Our dogs love it," says homeowner Janine Roth, who put custom foam beds in the space and painted the walls a dark color, then hung photos of the dogs inside. "Our friends love to stick their heads in and look at all the photos," she says. The space is bigger than it looks. An electrician fit inside to install can lights, a carpenter added baseboards and a painter finished the walls.
Board and Vellum9. The canine of this house has a view of both upstairs and downstairs from its niche in a stairway landing. The arched opening matches other doorways in theCraftsman homein Seattle. The designers at Board and Vellum carved the recess from an adjacent closet with a dog in mind. The space came first, the dog came later.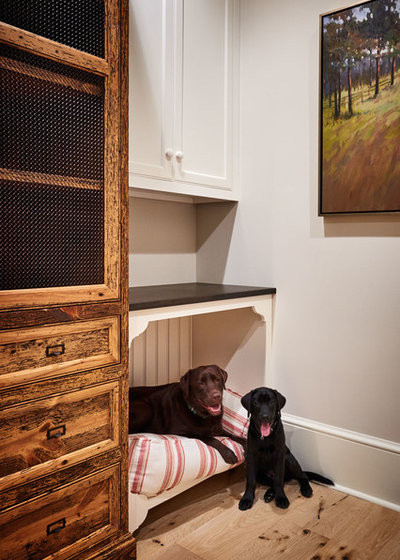 New Old, LLC10. Designer Mary Ludemann of New Old was tasked with transforming a small space into a laundry room-pocket office-craft and wrapping area, complete with pet station and wall-hung sink, in this English-style fundraisingshowhouse in Charlotte, North Carolina. She wanted to get the enormous dog bed off the floor and tucked away, so she created custom cabinets to fit a bed insert. (The cover was sewn by a local seamstress.) Her Labs, Briar and Bramble, are shown enjoying the area. The wood cabinets to the left hold 40-pound bags of dog food.
Paint: custom colors, PPG Porter Paints; art: Decorative Lighting; hooks and bin pulls: Pottery Barn; cabinets: custom, Walker Woodworking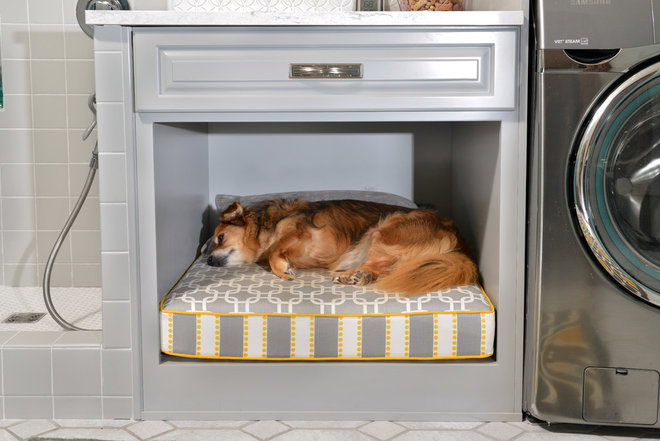 Artistic Renovations of Ohio LLC11. This laundry-mudroom in an Akron, Ohio, house got a big upgrade fromArtistic Renovations of Ohiowith new cabinetry and the addition of a dog wash area and built-in resting spot — enjoyed by dogs Roxy, pictured here, and Bella. Vibrations from the stacked washer and dryer lull the pups to sleep.
See more of this room
Stonebreaker Builders & Remodelers12. This little dog has a cozy hideaway in the laundry room of aTampa, Florida, homeby Stonebreaker Builders & Remodelers. In these custom cabinets fromWoodharbor Custom Cabinetry, thebench on top of the cubby lifts up for easy cleaning of the bed.
Hierarchy Architecture + Design, PLLC13. This stylish built-in dog crate is in the mudroom-laundry room of anupdated Colonial homein Roslyn, New York. The designers from Hierarchy Architecture + Design renovated the mudroom into a pet area with an integrated kennel. The cage is custom-made from a stainless steel grille of round bar stock welded in a flat C-channel frame. Two hinges allow the doors to be lifted off for cleaning.
Crown Point Cabinetry14. The builders at Crown Point Cabinetry in New Hampshire designed and built the two dog crates to fit into the custom cabinetry in this traditionallaundry room. The clients provided the builders with the size opening required for their dogs.
Morning Star Builders LTD15. A doggie sleeping area is part of the pet station at thisCypress, Texas, showcase housefrom Morning Star Builders. The dog crate door is a decorative metal screen from Home Depot. Food bowls swivel out from the station's toe kick, and a dog wash faucet from Moen is in the dog shower area.
Lands End Development - Designers & Builders16.Yellow Labs Blais and Gino snuggle up in bed together in the mudroom of theirMinnesota homeby Lands End Development.
Wall paint: Baguette 6123, Sherwin-Williams; tile: Gobi large Versailles, The Tile Shop; wood: knotty pine